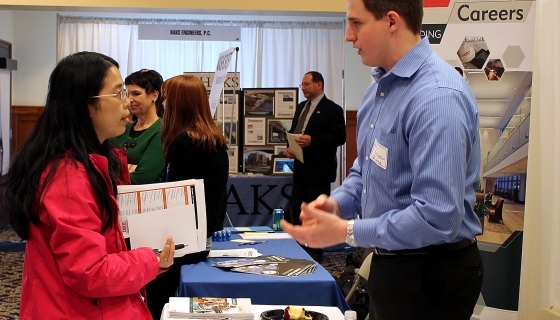 Last Thursday was unbelievable – were you there? More than 60 engineering employers filled the Rome Commons Ballroom for the first of two Engineering Career Fairs this fall. CCD and ENGR staff were ready and got everything set up. And then you, the students, blew us away.
Typically, about 600 students attend the Engineering Career Fairs…we even had over 500 last February, when six inches of snow fell during the fair. But nothing prepared us for Oct 2.
Nearly 850 students jammed the Rome Commons Ballroom during the Fair, running from 11AM to 3PM without a break. We ran out of company booklets. We ran out of those blue padfolios you know and love so well. And you kept coming!
Maybe it was the full-on awareness campaign led by the CCD for the full day of career fairs – including the 100+ employers in Gampel and even the Business breakout sessions in the Student Union. Maybe it was the increased awareness that career planning is something we all must do – there were more first- and second-year students in attendance than ever before. Whatever it was, you – the students – represented UConn well.
Well, for the most part. Yes, I did have one employer ask me about some of the students' clothing choices. It seems some arrived sloppily dressed in jeans or shorts, and others inappropriately clothed for a night of clubbing. Either way, yikes!
So, a few reminders for the upcoming Engineering Career Fair on October 22:
Do your homework – visit http://www.engr.uconn.edu/careerfairform.php to identify the employers you're targeting ahead of time.
Dress to impress – while many engineers never wear a suit to work, those are the ones who ALREADY have jobs. As a job- or internship- seeker, you need to project a professional appearance. Suits are great for the fair; if you don't have one, at least wear your dressiest pants and a neat button-down shirt. Really.  Check out Nellie Schafer's blog post from last week if you're still unsure about dress.
Ask great questions – don't make the employers interrogate you; ask them about their company, their jobs, and their hiring processes.
Follow up – make sure you get business cards or email addresses from the employers with who you made the best connections, and then email them within a few business days to reconfirm your interest in their company.
You're not in it alone – use CCD resources to help you along the way. The Student Resources section of the website is great; also, make sure your resume is ready to go. We're even offering engineering-only resume reviews in the E2 Tutoring Center from 12-2 on Mondays and Fridays, in addition to the regular CCD resume critique hours in WCB.
See you at the Fair!