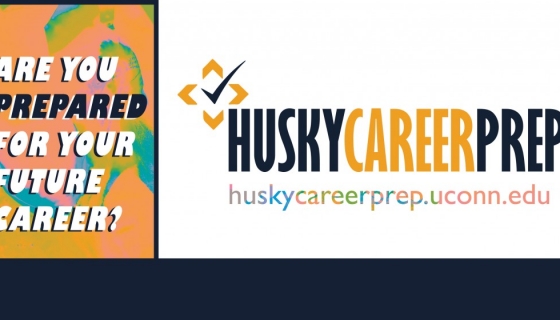 HuskyCareerPrep (HCP) is an excellent online resource for UConn students in their career development exploration, planning, and implementation.  In this blog post I'm going to cover the different sections of HCP and what resources you can utilize at different stages of your career development.
HCP Homepage
The homepage of HCP provides direct links to our top used career-prep resources. Through our single-login system you can move back and forth between HCP and our online job board HuskyCareerLink (HCL).  There are also quick links to many of the sections covered in this post, including: developing your quick profile, résumé prep, interview prep, and research tools such as U.S. Company Search and O*NET.
O*NET: Developed and maintained by the U.S. Department of Labor, this site provides expansive descriptions of careers that include info on tasks related to the job, tools and technology, work context and activities, education requirements, related interest areas, wages and employment trends, and similar occupations.
Career Exploration
By clicking on the Career Exploration tab you will be brought to everything exploration related.  You can start by taking the quick profile assessment to get a better idea of what industries and careers you might want to consider.  You can then delve further into determining your career related values, interests, personality, and skills through the assessing yourself tools.  Keep in mind these tools are just a starting point in exploring your options and meeting with a career consultant is recommended to help interpret how to use your results.  This section will also help you consider questions about industry, location, and corporate culture that will impact your career choices.
Career Planning
Creating a Career Plan is a great way to lay out your next steps.  By clicking "Get started" you will enter the "Create a Career Plan" section. Within this sub section you can fill out a goal setting and career goals sheet, create a target list of organizations, and develop a weekly career plan.  The Work Environment section of Career Planning provides information to help you make decisions regarding industry, location, culture, and leadership.  The next section provides information on why you should be networking and how to start within your current network and by using social media.  Under the Career Management section you can fill out exercises to determine where you are now, if your situation meets your needs, and a list of things you can do now.
Getting the Job
The Getting the Job section of HCP covers many elements of developing job search materials.  You can find resources on crafting your pitch, résumé, cover letter, preparing for interviews, and following up with employers.  Meeting with a career consultant can help you determine which of these documents will be needed in your job search.
Research Tools
My favorite section of HCP is the Research Tools. Some of its resources include:
U.S. Company Search: A tool to look up company names based on industry and geographic location. It is extremely helpful when developing a target list of companies you'd like to work for.
Salary Wizard: Helpful when preparing for negotiating a job offer.  This tool will help you determine what an appropriate salary range is based on industry and location.
Industry Reports: Includes information on what industries are growing in different regions, and helps you make educated choices about the industry you are pursuing.
Vault: Great resource for learning about the history and outlook of different industries.  You can read career descriptions, research companies, and find information on professional associations.  I find this site helpful in exploring industries you might never have thought of or considered on your own. (You will need to create your own account and log-in, but is free as long as you go through HCP).
E-Library: This tool often connects to helpful articles on Rile Guides and can include information on very specific careers and industries.
I've been using HCP for the past three months, and I still feel like I discover a new resource every time I log-in.  If you start to feel overwhelmed, come in for a walk-in with a career consultant at Wilbur Cross 202 M-F 12-4pm.  We can help you figure out where you are in the career development process and determine which tools will be most useful to you at this point in time.  In the meantime, have fun exploring and learning about yourself and potential careers!