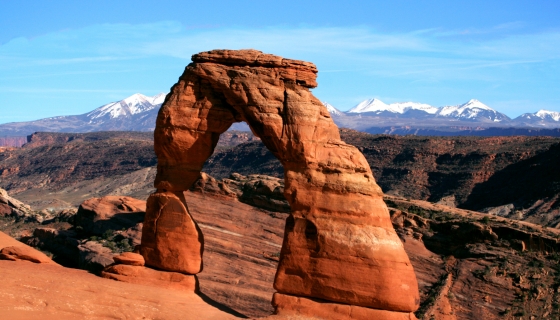 At first glance, the subject of geology might not seem to have much in common with career planning and management.  But in the field of geology there is a single term that could very well describe what happens when one's career management effort is less than it should be.  Uniformitarianism is the theory that all geologic changes may be explained by existing physical and chemical processes, such as erosion, deposition, volcanic action, that have operated in essentially the same way throughout geologic time.  Another way of thinking about this concept is that geologic structure outliers (e.g., a mountain range or low-lying area) over time eventually move toward the average; that is, a mountain is eventually eroded while a low-lying area is filled in, thereby levelling out the geologic landscape over the eons that we cannot detect during the short span of a human lifetime.
Now, you might be wondering: how can this information on geology possibly relate to career planning and management?  In short, without persistent thought and energy applied to your career management effort, this same geologic levelling out process can also take hold and prevent you from reaping the high-flying career you deserve.  For instance, having a well-written, powerful yet succinct résumé, while a good first step, is simply not enough in today's intensely competitive job market.  Developing strong interviewing and networking skills, establishing a strong online personal brand presence via social media (e.g., LinkedIn), and knowing your target companies' needs through effective research are all now widely expected components of building and sustaining over a lifetime a well-managed career that withstands the inevitable tests of time and life's challenges that eventually confront every person.
What can a college senior about to graduate without a career management plan of attack in place do to minimize uniformitarianism from creeping into their personal career development efforts?   The first step is to stop by the UConn Center for Career Development (CCD) in Wilbur Cross 202 to get your career compass heading.  Then, while you are there, make plans to attend a Walk-in counseling appointment (Monday-Friday from noon to 4PM), or sign up for a Résumé Critique (Monday – Friday from 10AM to 5PM).  Of course, it you prefer to start the process online, simply surf the CCD's impressive website (www.career.uconn.edu) to browse and/or utilize some of the vast array of career planning and management tools available to all UConn students.
For example, as discussed in previous editions of this blog, one of the more instructive tools found on the CCD's website is called HuskyCareerPrep (HCP).  Doing a deep dive into HCP uncovers a treasure-trove of career and personal development tools that can be invaluable aids for the soon-to-be college graduate turned entry-level employee.  One of these tools is called Career Exploration (listed under the Career Exploration icon located in the upper left corner on HCP's home page).  Career Exploration is an important resource to mine if you are in the midst of wondering what occupation you might want to pursue after graduation, and you do not have any idea about your personal values, interests, or skills as well as not yet really having a sense of what type of work environment to which you might be best suited.  Briefly stated, the Career Exploration module in HCP provides 15 different assessment surveys to help you determine those sometimes elusive variables.  All-in-all, the assessments might take you about 30 minutes to complete, but when you are finished you receive your own personal profile report that details out where you occupational interests might best be developed and in what type of setting.   Best of all, you can take that report to the CCD and arrange to meet with a career counselor who can help you interpret the results, and perhaps even show you some other ways for you to gain more traction with your career planning and management activity.
So don't be hostage to the geologic forces that can, over time, erode, undermine or level out your career development skills.  Take time now to learn and continue to develop excellent career management habits so that they will serve you throughout your long and well-lived life.  With that thought in mind, be sure to let the CCD's staff and the Center's arsenal of tools such as HCP help to guide you through your career exploration process.