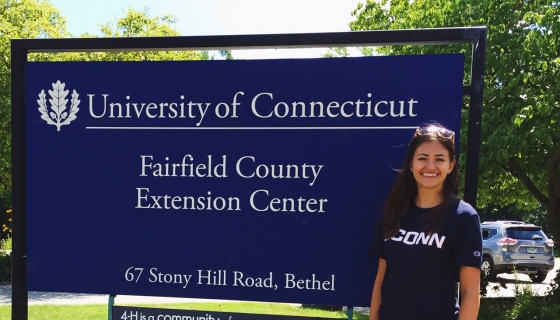 The UConn Extension Internship Program  is now accepting applications for the summer 2017 program through Wednesday February 22nd. UConn underclassmen and "super seniors" (those graduating in either August or December 2017) interested in gaining valuable (and paid) in-the-field experience in a career-oriented discipline such as Food, Research, Nutrition, Health, Youth Education, Agribusiness, Community Development, GIS, Environmental Management and Sustainability at an in-state Extension office location or a select group of local employers should apply. These internships offer a tremendous opportunity for students to earn income over the summer months, learn and work in a career-oriented role under the mentorship of an Extension manager, while providing valuable service to Connecticut government agencies, businesses and residents.
Applications will be accepted from UConn underclassmen starting on Monday January 31st, 2017 through 11:59 PM on Wednesday February 22nd, 2017 through HuskyCareerLink.  To apply visit HuskyCareerLink under the job title: Agricultural Extension Internship and under the employer name UConn Extension System. Complete applications will include résumé, completed form-fillable application form and current (unofficial) UConn transcript.  Students can also find the application form and learn details of the more than 20 Extension internship opportunities by reviewing the job descriptions and related information at the Extension Internship Program webpage.
Also, be sure to meet Extension staff at and continue your career development efforts while searching for an internship by attending the upcoming Internship Fair on Wednesday February 1st from 11AM-3PM, and the Careers for the Common Good Career Fair on Wednesday February 15th from 12noon-3PM, with both events to be held in the Student Union Ballroom.
In addition, plan to carve out time now to attend the upcoming Navigating the Careers for the Common Good Career Fair workshop, (scheduled for Monday February 13th at 6:30 PM in Laurel Hall room 108.  Lastly, make plans to visit the Center for Career Development (Wilbur Cross Room 202) with your internship search-related question(s) during Walk-in hours (M-F from 12noon to 4PM), or connect with your Career Consultant (Paul Gagnon paul.gagnon@uconn.edu), to meet to learn more about how to find the internship you deserve for this summer.