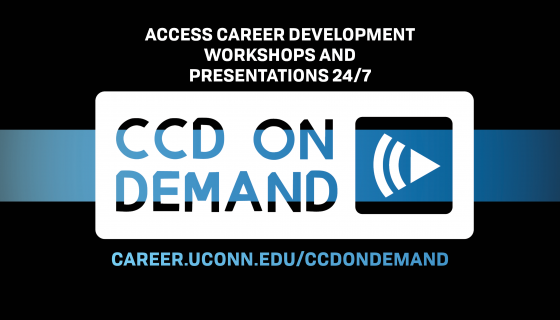 If you haven't heard already, UConn's Center for Career Development now has all of our amazing presentations online! Not sure whether you want to give it a try? Here are 5 reasons why!
Learn at the speed of you: With CCD On Demand you can pause the videos at any point in time. This option is great for both beginners and for those looking to make last adjustments on their resume and other professional endeavors. Learning what makes a professional document stand out and taking the time for changes will only make you a better candidate for the job or internship to which you are applying! You can feel comfortable taking notes at your own pace and discover where you might have questions.
It's portable: Have some time in between classes, an interview coming up, or commute to campus? Simply watch the videos on your phone or laptop. No need to walk across campus for a presentation, it's right at your fingertips. We all have an academic plan but time for a career plan must and can be built in with the use of CCD On Demand!
Last minute tips and tricks: The career fair is tomorrow and you are feeling unprepared! Sit back and watch CCD On Demand presentations such as "Networking 101," or "Crucial Elements for Effective Job Searching," to get you ready. Each of these presentations and more make preparation for all career related that much more manageable!
You are receiving quality information: CCD On Demand presentations are put together with the help and advice from hundreds of employers. These presentations have the best resources behind them whether you have questions regarding applying to graduate school, interviews, tailoring your resume to specific jobs or internships, networking and more!
Work towards getting your Certificate of Professional Development: Completing the Certificate of Professional Development is a yearlong process. This means you can still view presentations over the winter break! This certificate allows students to become more engaged with the necessary resources to manage your career and educational experiences. Before you know it, you'll have a certificate and a great resume builder!
These are just 5 reasons to utilize CCD on Demand but there are so many more! Try it out today and see for yourself!
By: Jamie Dolce