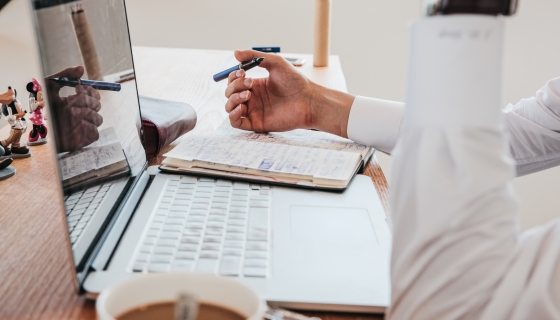 Skype and other virtual platforms are increasingly common formats for interviewing. As virtual interviews become more popular, it is important that you prepare yourself for these different interview formats. Websites like InterviewStream are useful tools because they simulate a mock interview and prepare questions you can answer using a webcam to record your response. Here are a few reasons why online interview practice websites are a helpful way to prepare for your next interview.
Practice Anytime and Anywhere
The best part about online resources is that they are easily accessible. Interview prep websites let you practice your interview skills anytime your schedule allows and are usually accessible through any device. While you may not get the immediate feedback that you would through a CCD Practice Interview, it is still a great opportunity to practice responding to interview questions in a concise manner.
Prepare for Non-Traditional Interview Formats
Websites like InterviewStream simulate the setting of the non-traditional interview and guide you through the necessary steps to prepare. Checking your microphone volume as well as choosing a space where you can be seen and heard clearly are all tasks that sites like InterviewStream prompt you to do while using their website.  While the CCD provides supplemental information on virtual interview prep, these websites let you experience firsthand the importance of preparing for the virtual interview.
See it For yourself!
Online interview practice sites allow you to monitor non-verbal communication that you might not be aware of. Body language and eye contact are very important factors that contribute to your image during an interview. If used inappropriately, these actions can potentially distract the interviewer from focusing on your answer. With InterviewStream, you have the option to watch your video answers as many times as you want. You can keep track of how many times you shift in your seat or the number of times you say the word "um" throughout the interview. Just like the video recording option in CCD Practice Interviews, it is a great way to see what the interviewer sees.
Customize Your Questions and Feedback
Finally, online interview practice sites easily tailor preparation toward your specific case. When practicing answer responses, InterviewStream offers both general and industry-specific questions that you can use to gauge what an interviewer in your field may be looking for. With InterviewStream, you can also send your responses to anyone with an email address. This is a great opportunity to gain feedback from professors, mentors, or friends who you know in your industry and can give you pointers on how to improve. Similar to a mock interview, this is a way to receive customized feedback and gain a competitive advantage during the interview.
In preparing for your next interview, don't hesitate to hop online to InterviewStream for the many reasons outlined above! In addition to the Center for Career Development, InterviewStream is always available to help you successfully prepare for your next interview.