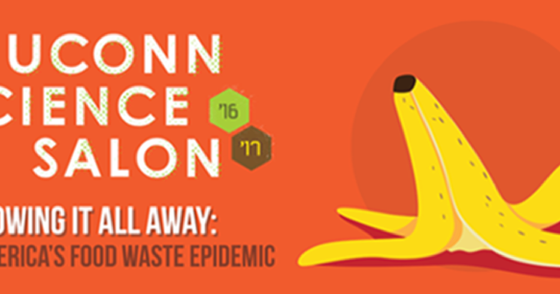 One of the greatest challenges facing the world will be how to feed the 9 billion people anticipated to be on Earth by 2050. There are essentially three major approaches that can be used to improve the likelihood that we will be able to meet the most basic of human rights, the right to food:
1. Increase the productivity per unit of land on a global scale (science has helped accomplish this over the past century but by 2050, this challenge will be too great for this approach).
2. Increase the quantity of land/space on which agriculture practices can take place (this essentially means deforestation, which has significant negative environmental ramifications).
3. Reduce the level of food that is currently and unnecessarily wasted (recent awareness of just how much food is wasted nationally and worldwide makes this an option through which significant progress can be made).

Within the United States, 40% of the food produced becomes waste. This amounts to more than 133 billion pounds of food annually and 97% of this amount ends up in landfills. This can occur because of over-production, cancelled contracts, poor cold chain management, non-ideal sizes and shapes of fruits/vegetables, failed quality control goals, over-shopping by consumers, confusion resulting from inconsistent date label messages, lack of portion control, and/or lack of creativity in the kitchen. The environmental impact of wasted food is significant as well. Every item of food that is discarded requires farmland, water, and fertilizer for its production; these resources are lost each time food is wasted.
What Can Be Done?
A significant amount of food that is currently wasted can be recovered to feed hungry people, supplement livestock diets, produce bioenergy, or compost as a soil amendment. The US Environmental Protection Agency has developed a "Food Recovery Hierarchy" which is a prioritized list of approaches for minimizing food waste and using recovered food in a socially and environmentally responsible manner.
Food waste and the various levels at which it can be considered, from production to consumption, provides an ideal topic for UConn students to engage with. Millennials are generally interested in making a difference in society, and reduction of food waste is a cause with which everyone can become involved. The goal of CAHNR's leadership team, faculty and staff is to raise the level of awareness about food waste among members of our University community and provide educational opportunities for students to learn more about this issue within the context of their curricular and co-curricular experiences.

To that end, UConn community members are encouraged to learn more about food waste during the upcoming UConn Science Salon sponsored by the UConn Foundation entitled: Throwing it all Away: America's Food Waste Epidemic. This program will be held on Thursday, April 6, 2017 at Spotlight Theatres on 39 Front Street in Hartford, CT. Come and network with UConn alumni and listen to featured panelists Chelsea Connery, UConn doctoral student, Dr. Cameron Faustman, CAHNR Dean, and John Mandyck, Chief Sustainability Officer for United Technologies Corporation. Learn more and register to attend at the following link. https://www.events.foundation.uconn.edu/ehome/index.php?eventid=196656&
This article was first prepared by Dr. Cameron Faustman and Jillian Ives in September 2016 for the CAHNR website blog.