Hear from Huskies participating in internships and co-ops and recent alumni as they give us a sneak peek at their experiential learning experience or full-time jobs.
How It Works
Follow a fellow Husky for one day as they take over the @UConnCCD Instagram account. UConn students and alumni who participate in the program are able to give a behind-the-scenes view of what it's like to work at a variety of different companies and organizations. Students who are currently participating in an internship or co-op experience are encouraged to participate.
Show Off Your Internship or Co-op
Join the Insta-takeover! UConn students who are currently in an internship or co-op experience or will be this summer are invited to participate in this program, as well as UConn alumni. If you are interest, please fill out this form and a Center for Career Development staff member will contact you soon.
Past Huskies@Work Series 
Haley Taylor '15, Design Intern at Pentagram
Chelsea Henderson '17, Civil Engineer Intern at COWI Marine North America
Nora McNeil '16,  Intern at Middlesex United Way 
Savannah Smith '18,  Intern at Yale ITS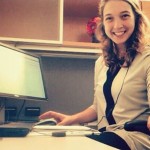 Arthur Atkin '16,  Intern at Freedom House
Rachel Sarnie '18,  Intern at Gensler
Marcela Trocha '16,  Intern at the Ragon Institute
Ashlesha Dhuri '16,  Intern at Schneider Electric
Thomas Binghi '16,  Intern at People's Securities, Inc.